Here's a recap of Pittsburgh Pride Revolution 2022
---
---
ADA Information
Bathrooms – 3 on Friday, Saturday, and Sunday
EMT and medic staff
Sensory tent
Curbcut entrances
Non-alcohol areas
All areas will be marked with black and white signs
Thursday, June 2
Too Hot for July
5 – 11 pm
Klvn Coffee Lab
6600 Hamilton Ave. 1st Floor
An Annual HIV awareness event hosted by AIDS Free Pittsburgh, in partnership with True T Pgh. Featuring Saucy Santana, with a street party, vogue batter, HIV testing and more!
Port Authority detours for this event.
Friday, June 3
Ball on the Bridge
Noon to 4 pm
Andy Warhol Bridge (7th Street Bridge)
Join us for the 3rd Annual Ball on the Bridge Rainbow Games. There will be over 40 vendors, music, vogue, and drag, all on the bridge!
Commentary by Legendary Mook Ebony and Boom Balenciaga, intermission with Morrigana Regina, Victoria La Sat, and Belair, and music by DJ/VJ Pump Da Beat.
Pride on the Shore
6 pm to 2 am
Stage AE, 400 N. Shore Drive
Pride on the Shore is a ticketed one-night, all ages music festival being held on the outdoor stage at Stage AE on Pittsburgh's North Shore.
The separate ticketed after party is a true dance party unlike anything before! This event is being held on the inside stage at Stage AE with doors opening following the outdoor festival.
Saturday, June 4
Pittsburgh Pride Revolution
March & Parade
Line up 11:00 AM
Step off 12:00 PM
City County Building, 414 Grant Street
The March & Parade will be led by grand marshal Billy Porter, Pittsburgh-born Tony, Emmy, and Grammy award-winning actor, singer, and author!
All are welcome and encouraged to march! Line up and gather to begin at 11:00 AM in front of the City-County Building at 414 Grant Street downtown. Bring your signs, your banners, your music, your flags. Vehicle use is limited, please register below.
Route: Grant Street, left onto Fifth Avenue, right onto Liberty Avenue, left onto 6th Street, right into Fort Duquesne Boulevard, left across Andy Warhol Bridge (7th Street Bridge), South Commons, North commons, Ridge Ave.
Line-up order:
Motorcycles (please register in advance to be part of the motorcycle contingent)
Banner and Flags
Grand Marshal and their accompaniment
Community (members of the general public and any groups that do not require their contingent to be segmented)
Color guard
Drag titleholders (please register, especially if you will utilize a vehicle)
LGBTQ groups that did NOT march in the Community segment
Businesses, corporations
Because of the Community component of the march and parade, registration is not required. If you wish to have your group segmented or you will utilize a vehicle you MUST register in advance. Drag title holders MUST register in advance.
Northside Festival
1 to 8 pm
Allegheny Commons Park West (behind Aviary)
This is a FREE, all ages event! Entertainment, 100+ vendors and food will fill the park, with performances on two stages.

Check out the full line ups for the Tito's Stage and the 1Hood Stage, including our headliner, Pittsburgh's own Miss Money!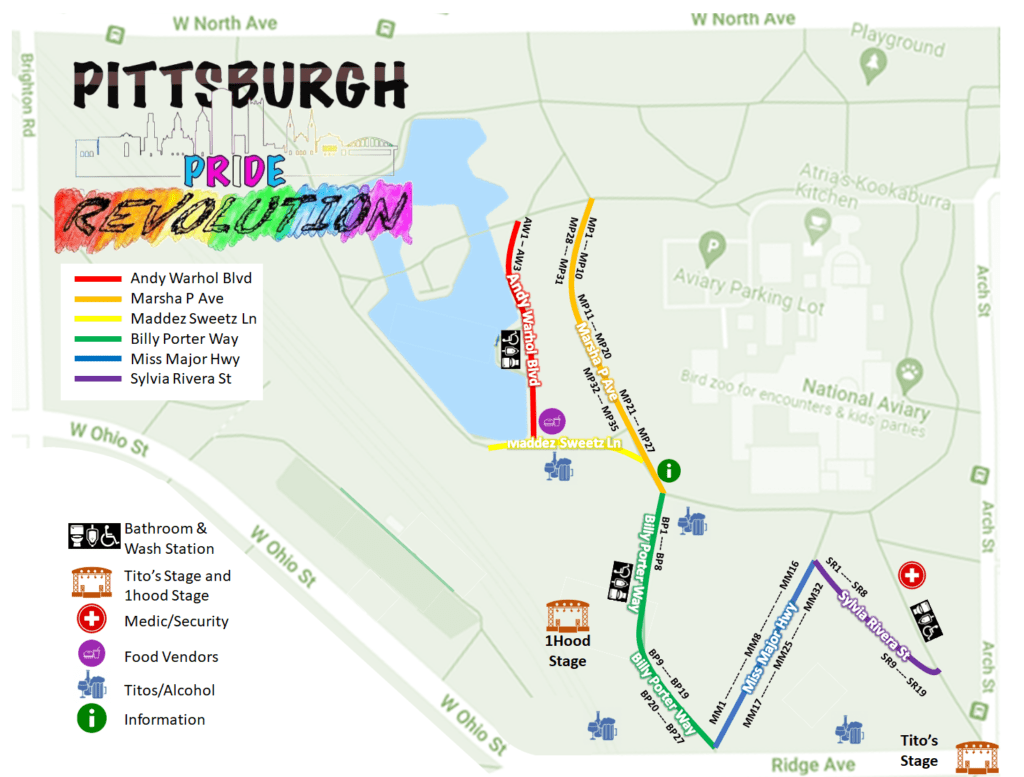 Rocky Horror Picture Show
11:30 pm
Hollywood Theater, Dormont
The Junior Chamber of Commerce Players and Chocolate Covered Rocky Horror bring you "The Rocky Horror 60's Show" – a twist to Rocky Horror like never before.
Sunday, June 5
Pittsburgh Pride Revolution
Bloomfield Festival
3pm to 9pm
Trace Brewing, 4312 Main St.
Pittsburgh Pride Revolution Bloomfield Festival is our closing festival, and kicking off a little later at 3pm on Main Street in front of Trace Brewing. Live bands, music, drag, poetry and more!

Check out the full schedule of performances!